In the News:
This page links to articles I have published as well to awards and other items about me in the media.
2010
Life Magazine's coverage of Variety's Entertainment Content Protection Summit can be found here with a very nice photo of me... in Life!

Variety Magazine has a rather nice quote from me regarding piracy, and goes so far as to call my soundbite "wisdom." You can find that here.
Variety and CDSA hosted the first ever "Content Protection Summit" December 8th 2010 and I was honored to be a speaker at the event. Here is a link to the bios of the speakers that I was privileged to share the stage with.
2009
The joint press release from Deluxe Entertainment Service Group and Vantos announcing the new partnership between the two companies offering the V-Flex solution as a SaaS model product to the entertainment industry through my organization.
I was asked to be a keynote at the ITWeb Magazine conference in South Africa. I spoke on being a profitable CSO and hacking/security in massively multiplayer online gaming.
Over at Sensepost I am listed as a "Hacking Rock Star." Which is awesome really, because I think those guys are total hacking ninja rock stars!
2008
The Security Consortium invited me to join them as a Trusted Adviser You can find a their press release at WWW.TheSecurityConsortium.net
LoveMyTool.com has asked me to write a series of articles on building and managing a successful security practice inside of a corporation. You can find my landing page on their site by following this link to LoveMyTool.com
2007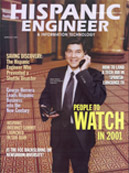 In the Winter of 2007 issue of Hispanic Engineering Magazine. I was named as one of the top Hispanics Engineers in Information Technology under the Media/Entertainment category.
In 2007 I was honored to be not only nominated but also a finalist in the ISE Information Security Executive of the Year Award for the Western United States. You can see the other nominees by following this link.
In 2007 I was once again honored by being identified and nominated as one of the top Information Security Executives for all of North America. You can find a list of all the other nominees for this great award at this link.
In 2007 I was priviliged to be invited back to IDC WebSec in Mexico City Mexico. You can read the press release, in Spanish, at
In 2006 Victor Chapella founded and launched the first ever Information Security Conference in Mexico City, Mexico. He named the conference WebSec and invited me to speak about Information Security in Large and Diverse Global Corporations. During the conference I also taught a class on hardening the Solaris Operating System with my good friend and fellow security researcher Daniel Clemens. You can read the original press release for WebSec, in Spanish, at this link.